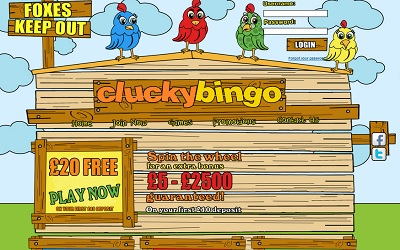 I'm a meat eater but I always feel awful when I see the live animals. I feel a sense of guilt but it hasn't stopped me or made me become a vegetarian. I've seen programs on television where the animals are sent to slaughter and it makes me sick. I guess it's an out of sight out of mind type of thing. I even get this feeling when I see the hilarious chickens at Clucky Bingo. I can't imagine hurting one of those colorful cuties. Yes, I know they are animated!
So they've got 75-ball and 90-ball bingo, slot games and more. The day's most difficult decision was whether to play pattern or 90-ball bingo. I was very indecisive for some reason so I figured I flip a coin. I was then on the hunt for a coin. Surely one had to have fallen into the couch but when I didn't find one there I was running around looking for my purse. The ridiculousness of it all never entered my mind. I finally located my purse and dug out the first coin. After the toss I was off to play some pattern bingo.
I entered a room and purchased the maximum number of tickets. I'm always in awe of how little it costs to play bingo. With the exception of special games with higher priced cards, you can play several bingo games with as little as £5.
The first game I played in was over very quickly. I couldn't believe how quickly I had won it! Yes, I actually won my first game. Now I was on a high and hoped that my luck would continue. There was no way I expected to win the second game but somehow I pulled it off! Luck was definitely on my side.
I switched to 90-ball bingo and had a couple of tense moments. I had a card that was down to 2tg for the full house. In fact, I was down to 2tg when the full house calls began. I thought for sure I had it. It's a rare day when you start out with 2tg for the house.
I needed #41 and #66. Double numbers are often bad luck for me. Whenever I'm waiting on a double number it never comes out and it doesn't matter which double number it is. Not one of my numbers were called. I sat there shouting out my numbers but waited for what felt like forever only for someone else to call.
I had my bit of luck already so I wasn't about to complain. It was another great day at Clucky Bingo and I've also decided that I'm never eating chicken again!