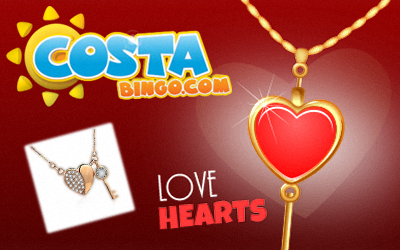 Fancy bagging a piece of jewellery for yourself or your other-half for just 1p? There's nowhere on earth that allows you to purchase beautiful romantic jewellery for such a price – all except one place…
…Costa Bingo! You could be wearing your heart of gold with £50 worth of jewellery prizes in the love hearts bingo promotion, which kicks off at 10pm every Monday, until the 29th of February, so there's plenty of opportunities to win. Each 90-ball bingo game will have three prizes:
Heart charm bracelet worth £10 for the line
Mini heart ring worth £15 for the two-lines
Heart key pendant worth £25 for the full house
If you're one of these people who has a jewellery box stuffed with rings, bracelets and necklaces, then you may not wish to take part – but the small print of this promotion states;
"The FH winner of the game will win the prize outlined in the promotional page in the form of an Amazon voucher. Alternatively, they may choose the cash value." So, you don't necessarily have to spend it on jewellery, you can spend it on books, gadgets – even the dog if you wish!
In the event that there should be more than one winner per game, the cash prize equivalent for said prize will be split equally among the winners.
A Pretty Penny:
Costa is home to many penny bingo specials, one promo in particular is the 1p sunny goldmine, where there are prize pots of £20 to be won every day. Head to the stated bingo room from 2pm and play right through until midnight. This 75-ball bingo room offers three chances to win; the full house prize of £10 for those lucky enough to match the winning pattern before anyone else and then there's prizes for runners up too…
…2TG players wills hare £4 and 1TG players will share £6! This means there is more than £1,500 to be won weekly and it only costs 1p to take part.
Spin it out every Sunday for 1p to win a share of 150 bonus spins! Make sure you're in the Sunday Spin Out room prior to 8.30pm to purchase your tickets into this spinning good special. The one-line prize is 25 bonus spins, the two-line prize is 50 bonus spins and the full house prize is 75 bonus spins! If you win, you can use them on the popular Fish & Chips, British-themed title machine by PariPlay.
Last but not least, the Wednesday wonga promotion is held every Wednesday at 10pm and yes, you've guessed it, tickets cost 1p each. To celebrate happy hump day, you can win a share of £50 in the 90-ball bingo game. Prizes on offer are: one-line is £10, two-lines is £15, and the full house is £25.
Kayleigh39