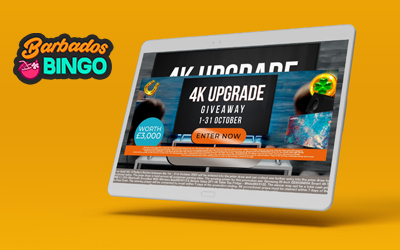 October Promotions with Frightfully Good Prizes
Here's a question you don't hear every day…would you rather take delivery of a massive 85" TV entertainment system or £3K in cold hard cash? It's a difficult one I'll admit but after careful consideration I'd recommend both!
Barbados Bingo are hosting another one of their monthly prize draw promotions and this time, one lucky winner will either get to choose an 85" 4K TV, soundbar and mini fridge OR £3K cash. I know what you're thinking… "if it's either one of those options, how do you arrive at choosing both?"
The answer is simple! Why take delivery of three prizes valued at £3K when you can opt for the cash, buy your own and still have almost £1,300 spare! That's what I'd do anyway! Let's breakdown that prize package. Curry's are selling a Samsung top-of-the-range 85" 4K TV for £1,499.00, a soundbar will set you back about £150 and a mini fridge about £50. Add that all up and you've spent roughly £1,700. By choosing the real money option you will have £1,300 left to do with what you want!
Will The Choice Be Yours?
What would you do? Before you go making your mind up let us take a look at the prize as it's being advertised at Barbados Bingo.
The winning prizes for this promotion are Samsung 85 Inch QE85QN85A Smart 4K Neo QLED UHD HDR TV939/9183 (£2,299.00 in Argos), a Samsung HWS800B 3.1.2Ch Bluetooth Soundbar With Wireless Sub200/0015 (£549.00 at AO.com) plus a Simple Value DF1-06 Table Top Fridge - White863/6122 (£99 at many online retailers). Add that all up and you've got £2,950 worth of prizes, so just short of that £3K prize amount.
We would recommend shopping savvy and choosing the wager-free cash option but that's up to the winner. How do you win? By getting in on the prize draw action! It's like a raffle – you can't win unless you're in…
…and to get in, you need to play a qualifying game. Every £10 wagered on Gold Hit: O'Reilly's Riches between the 1st -31st October will put your name into the random draw. That's it!
The winner will be notified within 7 days of the draw ending. An email will be sent and we all know emails end up going into spam, so best check all email folders up until November 7th. The lucky winner has 7 days to claim the prize and your bingo account must be active when claiming.
Other Barbados Bingo promos include:
Guaranteed October Spins: This October a new code will be available to claim every Saturday for a different spooky games leading up to Halloween. Get up to 500 guaranteed spins with the code of the day.
Scratch For Cash: Every £10 wagered on scratchcard games puts you into a draw to win £1K in cash.
Cash Drop: Available the day after a deposit is made, players get a 4 in 5 chance of winning wager-free cash with the cash drop game.
Bingo Bonanzas: Tens of thousands of pounds is won every month in a variety of bingo rooms at Barbados Bingo and October is no different!
Kayleigh39