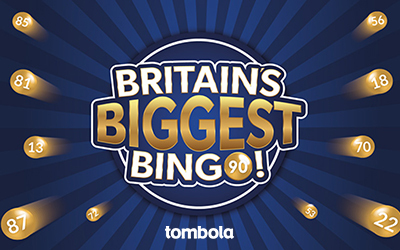 All Eyes On The Monthly Prize
There's a mega prize fund to be won at tombola and there's guaranteed to be a winner of at least £100K in every game. Read on to find out how you could be the next big winner!
Britain's Biggest Bingo promotion is exclusive to Britain's Biggest bingo site (try saying that in a hurry!), meaning it can't be found anywhere else. Not only that, it also means the players taking part are those who are on the bingo site itself. I know what you're thinking…
… "does it matter?" Yes, especially when it comes to how likely you are to win the real cash prize! Other bingo sites have jackpot promotions – none as grand as this I guarantee you, but in order to offer a couple of thousand of pounds, they link up with sister sites to offer the one prize, so this means there are way more players taking part than the numbers you see on screen!
What Is It?
tombola is bringing you a life-changing prize-winning opportunity every month with their monthly bingo game, Britain's Biggest Bingo. Styled on a traditional 90-ball bingo game, only with a twist, the rules of the game are simple…
…be the first to mark off all 15 numbers on your ticket to win the full house prize stated. If more than one player wins, the full house prize will be shared amongst all winners. The £100,000 prize is real money with no wagering and it is also progressive, leading to an increase depending on ticket sales – the more tickets sold, the bigger the prize.
How To Play?
Purchasing will remain open for a full month before the game takes place at 9pm on the 1st of every month. You can buy 1 strip for 50p, 2 strips for £1, 3 strips for £1.50, or all 4 strips for £2. Each strip contains 6 tickets. This means the maximum number of tickets a participant can buy is limited to just a £2 stake! With Britain's Biggest Bingo game offering a pre-buy feature, you can return at any time before the game starts to buy more tickets (up to £2), if you want to boost your chances of winning.
Think your friends and family will enjoy the game? Why not send them your unique referral link and earn real money rewards in the process? Send your friends £5 no deposit bonus money to test drive the bingo site and you'll get £20 in bonus money when they deposit and spend £20!
"Ah, a bonus – I bet there are terms and conditions applied!" And you'd be right, but here's the thing, you may not be able to withdraw that bonus, but what you do have is £20 bonus credit to try and win real money, no wagering prizes! Example, you get a bingo bonus for referring a pal. You stake £2 on bingo90 and win a full house of let's just say £500. Every single penny of that £500 will be credited to your real money balance and could be in your bank within an hour (Visa Debit customers only).
Kayleigh39