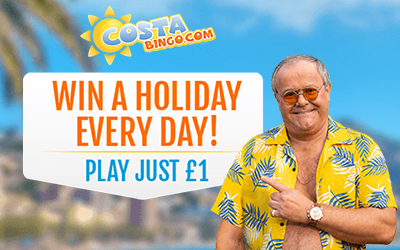 Costa Bingo is never shy when it comes to creating fun-filled bingo promotions, but their latest promo is astonishing to say the least; I don't think I've witnessed anything of the sort from the fun-filled bingo destination before! Costa Del Winner will run for a total of three weeks and on each of those days – that's 21 days, one lucky player will be chosen to win a free holiday…
…and not just any holiday – an all-inclusive holiday with everything thrown in! That's 21 days and 21 winners! How mad is that? Don't worry, you won't be made to jump through hoops or spend shed loads of cash just to get your name on a leader-board with no chance of winning – all it takes is one shiny pound and you're in the draw.
How to Win a Free Holiday
Join in with the ultimate giveaway for just £1 to win a sunny trip to Spain. Every day between now and November 12th, Costa Bingo will choose one lucky player to win a phenomenal prize (details to follow) but you must follow these rules, read them carefully:
Wager £1 on any slot game or any bingo game by 23:59
'Is that it?' Yes! It really is as simple as that! Regardless of how much you play, there will only be one entry ticket per player per day. Minimum deposit is set at £5, which could generate five entries into the draw (if you play over five days). Everyone has the same chance of winning – even players who are stretching a small budget until payday.
Staking £1 is simple, but you could be left in a sticky situation when it comes to deciding on where exactly to spend it, what with hundreds of the very best online slots available including the clucking mad Great Chicken Escape by Pragmatic Play plus many different bingo games. The British bingo classic of 90-ball bingo is a popular choice for most, but there are 75-ball bingo alternatives plus card game bingo too (52-5 bingo). If you're looking to maximise your chances of winning in bingo, why not play 5-line bingo; it's the only bingo game available with five prizes per game.
What's the Prize?
One winner will be chosen via a raffle each day for 21 consecutive days, to receive the prize of: an all Inclusive holiday to Spain (Costa Blanca or Costa de Sol) for 2 people, return flights from a UK airport included, 7-nights' accommodation, airport transfers plus all food and drink included (at your hotel)...
…don't make the same mistake one couple from the UK did recently! They booked an all-inclusive holiday to Greece and whilst there, they ate at various restaurants throughout the popular holiday destination and walked off without paying! When caught, they claimed they thought all-inclusive meant the entire island!
Kayleigh39