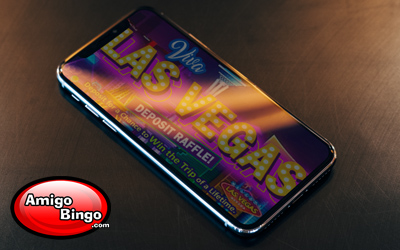 This month one lucky Amigo Bingo depositor (and their plus one!), will be chosen at random to receive an incredible Las Vegas experience. That's right, someone is guaranteed to win a trip to the city that never sleeps, or they can of course choose the cash alternative!
The depositor raffle is just that – it dishes out raffle tickets when registered players credit their account. The more you deposit, the greater your chances of winning. At the end of the month Amigo Bingo will draw one lucky ticket from the virtual hat of entries, and that fortunate player will be gifted with a trip for two to the captivating Sin City, courtesy of our team - flights and hotel or the cash value.
Top tip: If one deposit = one entry, you want to play savvy…
…let's say for example you were going to deposit $100 into your Amigo Bingo account, what you want to do is break that deposit down into smaller, multiple deposits to generate more raffles. One deposit of $100 is only 1 entry, but five deposits of $20 still amounts to $100 but generates 5 tickets instead of the one!
Here's other promotions you can enter while trying your luck with the Las Vegas raffle:
Win A Share of $500K: Deposit and play games in the contest bingo rooms for a chance to scoop a top prize of $10K. Wagering $10 on contest games will generate 2 points and every deposit made within the contest week will earn you an additional 3 points in the ranking. Play from 25c to $1 per card. Purchases can be made via real funds, winnings or bonus funds.
$15million To Be Won: Collect points when depositing and playing qualifying games to spin your way to a jackpot share of over $15million! Last month Amigo Bingo created more than 1000 jackpots of $1,000+, more than 425 jackpot winners of $2,000+ and 250 jackpots winners of $3,000 or more.
Get 5 points for every deposit you make during each weekly tournament.
Get 3 points for every $30 wagered on Mobilots.
Get 1 point for every $50 wagered on Parlay slots and casino games.
$500K Tournament: Special Tiki-inspired bingo games with coveralls paying $2,500, $5K and a mega $10K!
Win Up To $150 Bonus For Free: Free to play daily game offering players the chance to win up to $150 in bonus funds! The scratchcard has six panels but you only need to press to reveal one of those to receive a prize.
$150K Circus: Guaranteed jackpot games and great value fun to be had in the circus bingo games. Card prices range between 25c and $1 with a 'Buy 30 Get 5 Offer' on all cards throughout the event.
Each contest game win gets you 1 point into the weekly contest.
Every $10 wagered on contest games gets you 2 points into the weekly contest.
Each deposit made within the weekly contest gets you 3 points into the ranking.
By
Kayleigh39