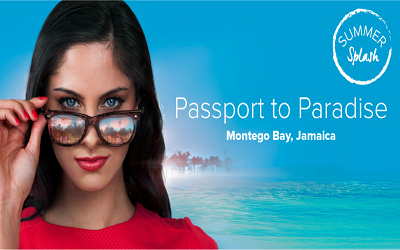 Montego Bay, ahhh the beautiful serene crystal clear waters. It is the capital of St. James Parish on Jamaica's north coast and is one of the major cruise ship ports with lots of luxurious beach resorts, breath taking golf courses and among the most exciting excursions in the Caribbean. Gorgeous beaches include Doctor's Cave Beach and Walter Fletcher Beach, home to an amusement park. Water sports include snorkeling and diving at the amazing coral reefs in the protected waters of Montego Bay Marine Park.
Now that your imagination has taken you away to this paradise spot, how about if it became a reality? And the best part of it all is it could be yours absolutely Free!
This special promotion run through the entire month of July ending 11:59pm ET on Sunday, July 31, 2016.
The winner will be paid on Monday, August 1, 2016
To be a part of this fantastic chance to win just play all month long and you'll be entered to win a trip for two to the exotic tropical paradise of Montego Bay, Jamaica, in a holiday package valued at an unbelievable $4,000! Can you just see it now….kicked back all relaxed on the magnificent beach sipping a tropical cocktail?
Every time you wager $50 you will earn one (1) entry into a Prize Draw with up to ten (10) entries a day.
You could be the one lucky winner to win a 5-day trip to Montego Bay, Jamaica, worth $4,000.
By
Ava Jackuard