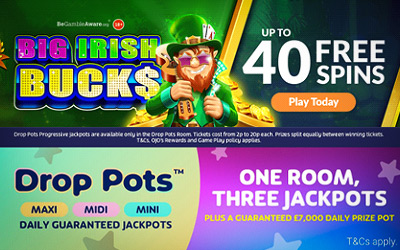 Plenty of Jackpots and No Deposit Freebies
mFortune and Mr Spin, two popular no deposit bingo destinations are back once again with a free no deposit offer, where all players - that's everyone regardless of whether a deposit has been made in past or not, will be able to claim up to 70 bonus spins to test two new progressive jackpot slots! Big Irish Bucks and Desert Island Dreams are packed to the rafters with bonus features, win ways and mega cash potential!
Pots of Cash
Desert Island Dreams can be found over at mFortune HQ along with 10 to 30 free games on the house! This sandy 5×4 slot features a mechanic known as 'AnyWays Wins,' which means there's a massive 1,024 possible winning combinations on every spin! The colour of the reels could also result in you winning big; red, yellow, blue, and green will match multipliers produced each spin – complete one colour to win that additional prize! A jackpot symbol appearing anywhere on reels 1, 2, 3, 4 and 5 award the progressive pot of cash, currently at £454K and climbing!
Mr Spin has put a new spin on the Irish theme by incorporating a Las Vegas touch in the new Big Irish Bucks release. You have until the middle of October to claim as many as 40 no deposit freebies, and you do this by logging in (or registering!). Bonuses of this title include wilds, a colour-match feature similar to that of Desert Island Dreams, a super reels mini game with 9 different reel engines and 4 possible ways to win on each and bonus spins! The progressive jackpot has just smashed through the £270K barrier and whether you bet big or bet small, you've the same chance of landing a five-of-a-kind combination to scoop a life-changing sum of money!
New Bingo Jackpots
On Thursday 23rd September, something big happened over at Play OJO Bingo, well, four things to be precise. First there was the grand unveiling of a new jackpots room with three must drop bingo jackpots! To celebrate, OJO were guaranteeing £7K in prize money in bingo games alone, with a mini, midi and maxi pot all up for the taking on a daily basis! So, how does it work?
Mini Pot: This pot of cash starts at £10 and grows in value from 6am until 1am the following day. Ball count starts at 30 and increases by one ball each game until it's won.
Midi Pot: Ball count starts at 32 with an increase in calls every 3 games. Once the balls start to increase, it stops either when the pot is won or at 8pm.
Maxi: To win the largest of jackpots, seeded at £700, call house within the stated number of calls! Beginning at 34 and rising by 5 balls after each game (from 9pm), this jackpot isguaranteed to be won by the last game of the evening!
Will you be giving the new games and jackpots a try?
Kayleigh39