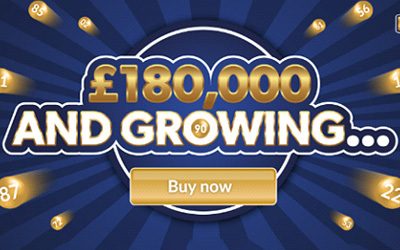 Less Than A Week To Go Until Game On!
Have you heard? Tombola is going to be giving away a life-changing sum of cash in a new monthly bingo game, and the first one is taking place in less than a week! In just a few days' time, £180K will be winging its way into the bank account of the lucky winner(s), and as Britain's biggest bingo site supports lightning withdrawals, that cash is expected to hit accounts within the hour!
A couple of weeks ago Tombola announced there would be a new game every month, a new bingo game with just a full house prize and big cash. The community were absolutely shocked at the staggering sum of money up for grabs - £100K at that point, and due to an influx in player registrations, that pot is now £185K and climbing!
How Does It Work?
Like a typical 90-ball bingo game only without the one-line and two line prizes. Think Bingo Blast by Pragmatic Play, only without the explosion of balls. Numbered balls will be drawn at random, each bearing a number from 1 through to 90. Tickets can either be marked manually or automatically. The first player(s) to get a full house on their tickets win that real money prize pot!
Tickets start from 50 for a strip (6 chances to win), with a maximum of 4 strips (24 chances to win) per player. This means it will never cost more than £2 to play. Pre-buy is available, a feature never-before-seen at Tombola. A month before Britain's biggest bingo game begins, ticket sales will appear in the lobby.
Only registered players with real money credits in their account can participate. If you are yet to join Tombola, a welcome bonus of £50 will be credited when a deposit of £25 is made. This gives a total of £75 to play with across the entire site, including the arcade. Anything that is won from the bonus is credited as cash with no wagering.
5 reasons why to play at Tombola
Exclusive bingo games not available anywhere else! Rollercoaster for example, featuring a white-knuckle ride of fun and jackpots of up to £10K. Cinco, the card-based bingo game with two jackpots, bingo roulette with chips and tickets and Hamsters, where betting on who you think will cross the finish-line first gets you the cash!
Fast withdrawals within an hour. Visa Debit customers can expect their withdrawals in their bank in just one hour.
No wagering or maximum win limits ever. Whether you're playing with a chat game bonus or a bonus from other offers, there's no restrictions whatsoever!
Jackpots are never shared! Multiple jackpot winners receive the full sum stated!
Free-to-play daily games with £50K to be won daily. 4-digit code sent to mobiles on a Monday delivers two chances to win each day, with prizes up to £5K. No deposit is necessary.
Kayleigh39