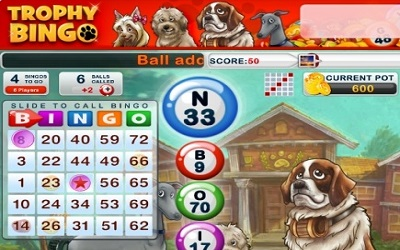 Former Bingo.com owner, Shoal Games Ltd., has taken its free-to-play social bingo game, Trophy Bingo, from Facebook to mobile with the app now available worldwide on Google Android and Apple iOS platforms.
Bingo.com launched in 1999 and the url was sold to Unibet at the end of 2014. With the sale came the company's name change to Shoal Games Ltd. as well as its exit from the real-money gaming sector. These days, Shoal Games forges ahead with a strong presence in the free social bingo market.
Shoal Games CEO, Jason Williams, commented on the company's change in direct saying: "We have tremendous expertise in the online bingo business so it was a natural shift for us that once we relinquished control of Bingo.com, we refocused on mobile and social platforms with our own non-gambling social bingo game. It's no secret that the social casino segment has grown by almost 40% since 2013, with 2015 revenues set to hit 3.5 billion USD. We're targeting Trophy Bingo to join the highly successful social bingo games Bingo Blitz (acquired by Caesars Interactive) and Bingo Bash (acquired by the Game Show Network) in the Top 100 Grossing charts.
"Trophy Bingo is a prime example of the type of game players are demanding. We've stuck to the traditions of bingo, but added layers of fun that will keep our players coming back every day for more.
"Trophy Bingo brings an entirely new format and gaming experience to the social bingo segment." By
Glo Wood