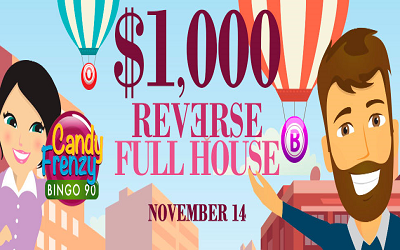 Get ready for the big Reverse event about to happen. Before you start: rolling skating backward, shifting your car into reverse, walking backwards, reciting the ABC's backwards or put your clothes on backwards think Bingo!
Unless there is another crazy reversal contest out there, the only game worth hard cold cash is at Bingo Sky. The sky is the limit at this online site that invites a global level of players including the US to kibitz with roomies and quickly become a socialite!
Reserve some "me" time on Saturday November 14th , hop on your laptop or desktop and log into Bingo Sky. The fun begins in the Candy Frenzy Bingo 90 room. Here there are fantastic prizes waiting and a good time to be had for all.
The room begins to hop with excitement at 6pm EST and will start with a Guaranteed cash prize of $100. The momentum builds and so do the prizes with the $1,000 Revers Fullhouse game. It is an exciting twist with the more numbers called higher the cash value up to $1,000 big ones.
What is super cool, is during these special games the cost of tickets is only .50 each and when you buy 8 you'll get 4 Free. When it is time to purchase select "12" tickets and get charged for 8, it is as simple as that.
Not a member yet at Bingo Sky? What in the world are you waiting for! Get cracking now and join because it will be well worth your while.
First enjoy the $25 No Deposit Freebie and try your luck at zero risk. The get an amazing 1500% in Bonuses starting with 500% on your first deposit, 600% on your second and 400% on your third deposit. By
Ava Jackuard