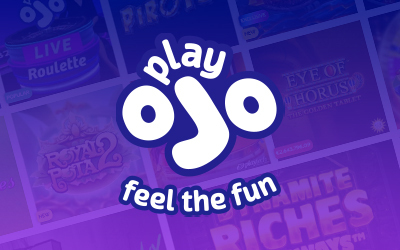 You could turn your Wednesday into Winsday with Play OJO Bingo totally free bingo offer, paying nothing but real money, no wagering requirements EVER prizes!
The apply named Fab & Free bingo room features 100% risk-free bingo games every 10 minutes, providing plenty of opportunity to bag a free real money win. The doors are open from 9am until 6pm with plenty of free and paid-for games to add to the excitement. Paid for games mean boosted prize pots, but you can still win without having to put your hand in your pocket!
As well as your regular lines and full house prizes (90-ball bingo games), there are opportunities for a second shot at a win with 1TG prizes guaranteed to make an appearance. What this means is you can win even when someone else pips you to the full house post! Everyone who participates in the free bingo games has the same chance to win, all thanks to its equal chance rules of 6 free bingo tickets per person. When it comes to paid games, the maximum you may purchase is 100. The cost of these tickets will be no more than 20p each.
Other Play OJO Bingo promotions include:
Daily Deposit Deal: Available once per day until midnight on 18th Deposit via the kickers to get the following casino spin deals. All prizes are real money with no wagering requirements:
Deposit £10 and get 10 casino spins on Money Train 3 today and 5 casino spins tomorrow
Deposit £25 and get 20 casino spins on Money Train 3 today and 15 casino spins tomorrow
Deposit £50 and get 50 casino spins on Money Train 3 today and 25 casino spins tomorrow
Deposit £75 and get 75 casino spins on Money Train 3 today and 40 casino spins tomorrow
Deposit £150 and get 150 casino spins on Money Train 3 today and 100 casino spins tomorrow
Win Thousands of Casino Spins: Play bingo in the Reels Room for a chance to win a share of thousands of wager-free, no max win limit casino spins every single week! Enjoy 90-ball bingo games from 5p a ticket to win casino spins instead of cash!
Equaliser Bingo: There's 10 chances to win £100 in cash plus 1TG/2TG and community jackpots only in ton-up bingo games.
Session Bingo: Get an hour of bingo game for a one-off flat fee every Sunday! It's like visiting a land-based bingo club for thrilling bingo games, only you don't to leave your home!
Quizzical: Get those brain-juices flowing with chat games and quizzes to pick up additional bingo bonuses and free tickets. Quizzes can be found in all room even in the Bingo Blast room!
Masked Singer Jackpots: Play a modern variant of bingo with a television twist to win big jackpot prizes.
Drop Pots: One room, three bingo jackpots and a £10K prize pot! The ball count increases as the evening commences, with jackpots guaranteed to be won!
Kayleigh39