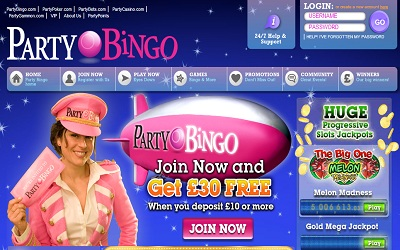 As if parties aren't so much fun on their own, it has been combined with bingo on Party Bingo. I've known players that love to play here and only play here. Is it the Welcome Bonus? Is it the BOGOF specials? It seems that it's just the party atmosphere.
Not many bingo sites come to mind that I haven't played a game or two at but it had been a while since I logged into Party Bingo. I was talking to a friend that won a bingo jackpot recently and I felt inspired. Logging in should be a simple process but when you have no idea what your user name and password are, it slows things down a bit. I had to wait for emails but overall I was in business fairly quickly.
I scanned the promos as always and it was my lucky day. I was just in time for BOGOF games. I had my choice of 75 ball or 90 ball bingo rooms. I decided to go for the 90 ball room first. I purchased the max tickets as usual. I realize that it only takes one card to win at bingo but I feel more confident with a lot more chances to win.
Anyway, I found myself three games later with horrible luck. Is it actually worse luck to get down to 1tg and wait forever or to never even get close to a bingo? Both are just as bad when you're losing.
I switched over to 75 ball bingo and I had my first win of the day. With that I took to the slots. I played an old friend, Cleopatra. The bonus can be amazing on this slot. If you can get it, that is. I became attached to this slot when I played it in the casinos. When I found it online, I was thrilled. Cleopatra can be stingy so I hoped this wasn't one of those times. I immediately hit the free spins bonus. I was awarded 15 free spins. I love the narration that comes with big wins. I had increased by balance by £225.
It was now time to make a choice. Either I was going to take the money and run or continue to play. I've been burned by Cleo in the past so I was no fool. I took my winnings and left the party without a second thought.