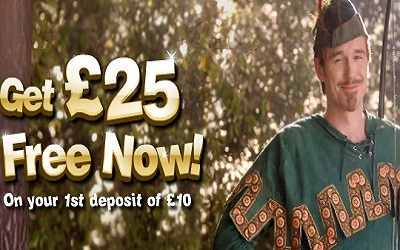 Robin Hood Bingo opened up earlier this year and I discovered them by looking in my inbox. It was an absolute fluke because I usually ignore emails from those that I don't recognize but this time I happened to open the message. I checked out the bingo site and it looked pretty cool. They use Dragonfish software, which by the way is going mobile very soon. Anyway, I deposited for the first time and was hooked.
I came across a bingo article that was talking about how they had given away something like one million coins to bingo players. Once I deposited I knew what they meant. Each day that you log in to the bingo games, you receive free daily coins that may be used toward free cards.
They were also the subject of a bit of controversy. Apparently their TV advert featured a couple of women that appeared to be under 18. Although they were not some complaints were filed and the advert was investigated by the Advertising Standards Authority (ASA). The claims were unfounded and I say leave Robin Hood alone!
With so many bingo sites and so little time I had been away from Robin Hood Bingo too long. Just the other day I decided to get in on a few 90 ball bingo games. There were some decent bingo prizes up for grabs so hopefully I'd have a bit of luck. Not enough of my numbers were being called during the first game and I was miles away from a win. The second game was more of the same. My third and final game was a nail biter. I was nowhere when it came to the line prize but I was set up nicely for two lines. I waited on #34 and #77 on one card but someone called. It was okay because all I needed was four for the house. Someone was doing much better because two calls were made and someone called.
My bankroll was busted and I was on edge after such a close game so I played a little free bingo and took a look at the promotions. There are a couple of fun Christmas promotions running at the minute. Players get to choose their present each day from Robin Hood Bingo. The Sugar Train is also running through the station. It's actually a slots tournament with £150 up for grabs each day. It's definitely one of the places to be this holiday season.
If you're new to Robin Hood Bingo, they're offering a decent Welcome Bonus when you make your first deposit. Grab those gold coins while you can!