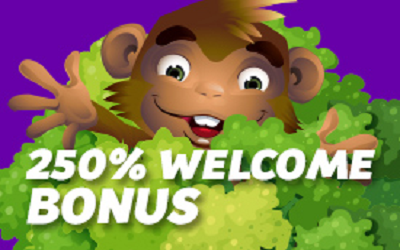 There is a brand new online Bingo that has come to town and it premieres in your neighborhood. If you go ape for some good old fashion Bingo fun head over to Monkey Bingo. The UK will go bonkers for 90 ball plus 75 ball but there is something new lurking in this jungle!

5 Line bingo is the speed game for players who don't have time to waste. Plus it is extra special with the added bonus of even more winners! At first glance it looks very similar to the 75 ball game.

The difference is there is no pattern and each card has 25 numbers and there's no free space. The goal of the game to Bingo is to cover the lines either horizontally or vertically. That means you can win on 1,2,3,4 or 5 lines, the same as 90 ball bingo! It is a blend of 75 and 90 ball that has the speed of 30 ball.

Players will definitely go bananas over not one, not two but three different Free Bingo rooms tailored made for certain qualifiers.

Marvin the monkey invites players every single Friday at 10pm for his £10k Free Bananas game with loads of cash to be won and the best part of it all is its absolutely free! The £10,000 cash jackpot is shared with the FH, 2 line, 1 line, 1TG and 2TG bingoers for ample chances to win!

The Slots offer over 100 amazing titles comprised of several software plus massive Progressive Jackpot games.

Join today and get a 250% Bonus on your first deposit of £5 - £20. Your second deposit of £10 - £100 will receive a 150% Bonus. Finally on your third deposit of £10 to £100 and get 100% extra Bonus for Free.

After your first three deposits the generosity isn't over because a 50% Reload Bonus is awarded on every deposit from £10 to £100.
By
Glo Wood