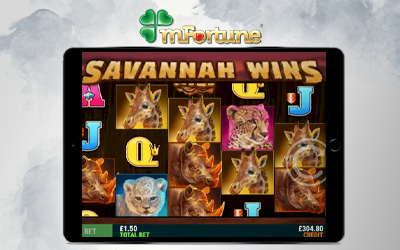 It's game of the month time once again over at mFortune and this means something new to play – and for free! You should know the drill by now; each month, a new gaming title is released and each and every one of you can try it for free without sticking your hand in your pocket! Not only do you get to witness excitement for free, but you'll also have a chance to get a feel of how the features work as well as being afforded up to 45 chances to land an epic progressive jackpot!
Naturally, an account is needed but the good news here is that it's free to join! And, if you're yet to discover the sheer brilliance that is the king of mobile casino gaming, you'll be welcomed with up to £10, again with no deposit required! Now, once you've signed up or signed in (or whatever!), the next step is to claim your free games and it's as simple as pressing a button!
If you've played online bingo before, you'll recognise the pop-up that appears on your screen. A golden pot with bouncing bingo balls stands between you and your free no deposit spins! Click to produce a ball and the number shown will be the number of bonus spins you will be credited with instantly on the new slot title. Click 'play' to be transported to Savannah Wins where a host of thrilling features wait to be discovered!
Really Wild Stuff
Safari-themed slot titles are popular, the most popular being Mega Moolah by Microgaming. There are others delivering the same excitement, only without the bulging progressive jackpot, including Raging Rhino (and its Megaways sequel) and now Savannah Wins. They may be different in terms of design and offering, but they all have one thing in common – great value for money gameplay!
mFortune is recycling one of their older features for their latest release, only don't let that out you off! If you've played the Krispy Kash title, the sweet slot stuffed with lots of dough, sorry doughnuts, you'll understand. Both games make use of a multiplier trail in which consecutive wins lead to an increase in multipliers. The more consecutive wins you land, the higher that multiplier and this will result in winnings being boosted by as much as 10x! That's your winnings not your stake remember!
Wins can be achieved via the presence of…
…just a two-of-a-kind (for wild animals) and when a win is found, symbols come alive! A win will launch a free re-spin in which you will move along the big game trail; 1x, 2x, 3x, 5x and 10x wait to leap into action, so too does the bonus spins round! Throw in plenty of wilds and a progressive jackpot and you're guaranteed ultimate thrills!
Be wary of those wilds though! Despite delivering more ways to win, they could hinder your jackpot winning attempts by substituting an epic win for a maximum base game multiplier win, of which is much smaller in value! Try saying that 3 times!
By
Kayleigh39