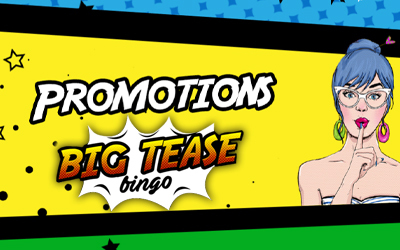 If you're yet to discover Big Tease Bingo, you may need a cold drink ready to cool you down because it's a bingo site designed to get your pulse racing! The theme may be animated but it's fun with its seaside postcard style design. Scantily clad women with a nurse taking listening to a hunk's chest are just a few of the images waiting to welcome you and of course, it's open to genders!
To help raise your temperature a little, the welcome offer will boost a minimum deposit of just £5 by 500%; giving you a total of £30 to play with! £10 becomes £60, £20 becomes £120 and so on, up to a maximum of £200! The biggest jaw-dropper comes with the 'bingo with benefits', a loyalty scheme jammed full of rewards with low wagering!
All you need to do to get your hands on up to 50 free games a day, up to 30 free bingo tickets a day, up to 10% cashback every month and free tickets to the £10K guaranteed monthly special, is to log in and play and claim your rewards each and every day!
Thrills are Multiplying
Want more excitement? Don't we all, and Big Tease Bingo is delivering it in the form of extra free bingo tickets! That's right – each and every player will be treated to as many as 100 free tickets every day for the nightly £50 jackpot room! All you need to do is make a deposit of a minimum of £10 with KACHING100 as the promo code and they'll be credited to your account instantly!
The red-hot rewards don't stop there! On top of everything else already mentioned there are cash spins; they're basically bonus spins only winnings are credited as cash! Use the promo Code CASINO500 with any of the below deposits to play some great slots:
Deposit £5 to get 25 bonus spins on the Fluffy Favourites title
Deposit £10 to get 50 bonus spins on the Irish Luck release
Deposit £20 to get 100 bonus spins on the cosmic Starburst title by NetEnt
If Big Tease Bingo do one thing well it's free bingo and between 8am and 10pm every day, there are some free bingo games with bingo bonuses up for grabs! Take a look at the daily bingo schedule below to pick out a time that suits you:
Every 20 minutes from 08:00 - 10:00 win a £1 bingo bonus
Every 20 minutes from 08:10 - 09:50 win a £2 bingo bonus
Every 20 minutes from 12:00- 14:00 win a £1 bingo bonus
Every 20 minutes from 12:10- 13:50 win a £1 bingo bonus
Every 20 minutes from 18:00- 22:00 win a £1 bingo bonus
Every 20 minutes from 18:10- 21:50 win a £2 bingo bonus
Plus, from 7am there are bingo bonuses to be had in the 'back lot games', bonuses totalling £315. And newbies get even more! Between 10:20am and 10pm each day, a £10 bingo bonus can be won every 30-minutes in the 'newbies fun games' room!
Terms and conditions apply
By
Kayleigh39