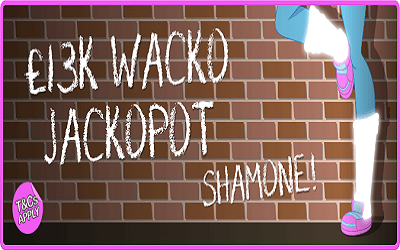 Remember TV shows like ALF, The A-Team, Miami Vice and The Wonder Years. How about silver screen hits like Dirty Dancing, Ghostbusters and E.T. the Extra-Terrestrial?

If you haven't figured it out yet, it all happened in the 80s. Bangin Bands included the Bon Jovi, Van Halen, AC/DC and Aerosmith. Pop sensations like Whitney Houston, Michael Jackson and Madonna were in the top 40 hits.

The 80s was a fun time with big hair, parachute pants and spandex work-out clothes. Now you can revisit those days with Rewind Bingo who takes a step backwards in time.

Play in the Wacko Jackopot for a chance to win totally tubular prizes! When Michael Jackson asks "Who's bad" he is clearly not talking about big jackpots up for grabs. They're giving players the opportunity to win some pretty impressive prizes. Bingo as fast and like nobody's business and you could take the whole enchilada worth a whopping £10,000! But have no fear if you get close, don't win you can still take a piece of £3,000 pie!

Okay let's get down to the nitty-gritty details, shall we? The £13K Wacko Jackopot game takes place on Friday at 10:00pm. The faster you bingo, the bigger and better the jackpot amount will be.

Quick means this folks: Bingo in 44 calls or less and to win £10,000 cash. The minimum you can win is £1,000 and dig this we save the best part of all, cards cost absolutely zip, nada, zero, nothing!
By
Ava Jackuard