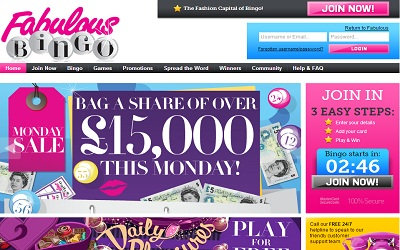 If you're lucky enough to be living in the UK then you've got access to some of the best online bingo sites in the world. This definitely rings true when it comes to Fabulous Bingo. I love to play a few rounds of bingo but the slots also grab my attention. Fabulous Bingo is powered by Gamesys and this software has some pretty fabulous slot games!

So when I logged in I went straight for bingo. There are times when it's a tough decision when deciding to play bingo, slots or casino games but today was a no brainer. After buying the maximum tickets and losing very quickly in the bingo rooms, I moved over into the slots area for my favorite guilty pleasure.
Guilty Pleasures is a pretty cool slot game that is perfect for a day of pampering, relaxing or just a little personal time. The symbols include chocolate, champagne and so many more indulgences.
If you've ever played Double Bubble then you know exactly what to expect with Guilty Pleasures and that Bubble Line. The Bubble Line is so confusing to me. I always have to take a look at the paytable to make sure I get it straight before I start spinning.
Here's how the Bubble Line is described in the paytable: The "Bubble Line" wins are awarded from the base pay table and multiplied by the "Bubble Line" multiplier.
I feel like this is the perfect slot for women. Other symbols flying across the reels include cats, nail polish, red high heels, lipstick, cupcakes, shopping bags and letters.
So I finally triggered The Bubble Bonus which is a "pick me" feature. The cork is pulled on a bottle of champagne creating lots of bubbles. Each bubble you select reveals a prize. My choice revealed 500 credits for £50.
I continued to spin and had a few small wins. I was actually doing quite well. I wasn't exactly winning big but my bankroll was lasting and allowing me to spin longer. I wondered if I should quit because at some point things were going to go downhill. It's inevitable and that's what gets me in trouble. I stick around long after the payouts become fewer and fewer. If we were lucky all the time we'd all cash out.
Definitely give Guilty Pleasures a chance and you'll agree that it is a the ultimate feminine indulgence.