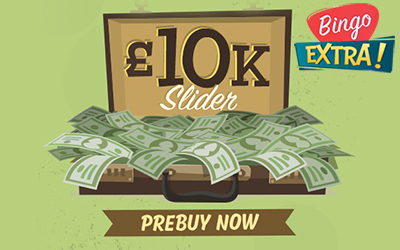 Ever wondered how Bingo Extra got its name? It's not a secret, but many are still yet to discover the sheer brilliance of this bingo site. Featuring a 1980's postcard theme, the site delivers more than your average online bingo site and I'm about to reveal to you the hidden thrills (and promotions), so grab yourself a cuppa (mine's a frothy coffee with two sugars please), sit back and discover something new.
Double Boost:
Starting with the welcome bonus, players are given the option of not one; but two different bonuses! If you're predominantly a bingo player, then the 100% bingo bonus is bound to tickle your fancy, but for those who enjoy spinning the slots, there's also a 100% bonus to be claimed (both up to £50) …
…this means a £50 deposit would turn into £100 to play with – instantly! Once you've decided on the bonus that's right for you and make that initial deposit, here's where the 'extra' kicks in; once you're a funded player you can access all bingo rooms for 90 ball bingo, 75 ball bingo and the special 5 line bingo games; this one features extra lines and extra chances to win!
Regular Features:
What is it that makes Bingo Extra tick? It's the fabulous range of on-going promotions and vibrant bingo community. There's never a dull moment here, what with chatty players looking to make new friends and chat hosts offering up fun-filled games and quizzes (for extra bonuses). With the chaos surrounding Brexit (are we in are we out?), food prices have shot through the roof, but this shouldn't be a worry to you, because Bingo Extra offer a £100 Asda shopping voucher every Tuesday…
…will you buy groceries, treats for the kids (or pets), or use it to buy something for the house? It's entirely up to you, but you can't win unless you buy a ticket. Cards will cost just 5p to this Tuesday special; if you can't make it on the night, you can pre-buy your tickets in the lobby.
Want more? Of course you do and there's plenty to offer! Get your skates on with the roller rink special, featuring 5 lines and a £25 jackpot twice a day! Extra loyalty points are dished out every day and you can exchange these for bonus money. Rock around the clock every weekend with the £500 cash game. Every Saturday at 9.30pm, players compete to win a share of the loot for just 10p a ticket.
Extra surprises come with the Thursday surprise bingo game; here you can win anything from £50 to £100 for just 5p a ticket. The cherry on top of the cake or the pièce de résistance is the monthly £10,000 sliding jackpot game. The last Friday of every month, there's £10,000 up for grabs, but if you can't call house within the stated ball count, there's still plenty of cash to be won.
Want extra? You'll only get it at Bingo Extra!
Terms and conditions apply.
By
Kayleigh39