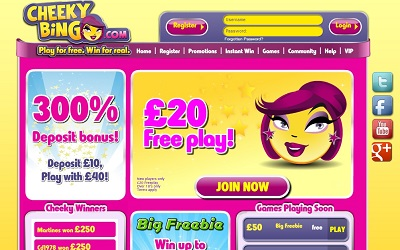 I have managed to escape March Madness without a single scratch and April brings about even bigger and better things in the world of online bingo.

The Easter promotions are plentiful and I plan to take advantage of every moment. It seems that everywhere I look there's a new offer hitting my inbox! I'm excited to play some bingo and I'm hopeful that I'll have something to brag about.

I was awake early on Sunday morning and I wasn't quite ready to get out and start the day. I grabbed myself a cup of coffee and snuggled up with my laptop. I contemplated where I was going to play bingo and came across an email from Cheeky Bingo. It was settled, that would be where I would hang my hat.

Naturally I made my way to the promotions page to see what kind of offers they had going this month.

Cheeky's Eggstravaganza was running all month long. It's basically made up of a bunch of little promotions celebrating Easter including cashback, a slot tournament and bigger jackpots! The promotion that caught my eye the most was Hopping Mad. Here's the info straight from Cheeky herself:

Hopping Mad Easter Jackpot

I've bounced into a new month with an Easter special that will crown 5 winners of £1,000 each.

There's £5,000 to be shared and cards won't break your Cheeky balance either, at 50p each, leaving plenty left to pick your favourite chocolate treat.

You can buy your cards now with the big game taking place at 9:30pm on Monday 28th April.

Prize breakdown:

5 lines: £1,000

4 lines: £1,000

3 lines: £1,000

2 lines: £1,000

1 line: £1,000

Winning a thousand pounds for each line is a very eggciting prospect. It's not every day that I come across prizes this good so I marked my calendar and I will definitely be getting in on that game.

As for now I decided to hit the 90-ball bingo rooms. I looked for the highest prize and bought the maximum number of tickets. It wasn't until my third game that I finally caught a break. I won a double line and I cherished that as if I had won the lottery!

Some days just aren't so lucky out there in cyber bingo so when I win I appreciate it no matter how small.

My mini win kept me in the games all morning and at the end of the day I had made it an eggstravaganza of my own!