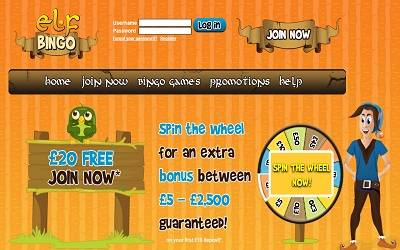 Elf Bingo is part of the 15 Network among a lot of other popular online bingo sites including Showreel Bingo, Zingo Bingo. Rovers Bingo, Cheers Bingo, Spice Bingo, RapChic Bingo, Tidy Bingo and several others. I liked Clucky Bingo, which is also in the network, and decided to give Elf Bingo a try.

As a new player you receive a Welcome Bonus plus a spin of the bonus wheel. You could win £5 to £2,500 after your initial deposit of just £10. There any fancy bingo games just 75-ball and 90-ball. I like the Jumpman Gaming software and noticed that the promotions offered on Elf Bingo are the same as the other sites within the network. So, if you've become a fan of Friday Night Takeaway, Monday Madness, Weekend Wad, Party Night and Lucky Lotto then you'll be pleased to see them here as well. The transition from just about any other site within the 15 network will be basically seamless since the games and promotional offers are the same.

I got started with a few games of 90-ball bingo. The prizes were decent, not as large as I've seen at sites like Jackpotjoy or Mecca Bingo but pretty good. I was in the mood to go big or go home so I bought the maximum number of tickets for each game I played. I got off to a horrible start. I had high hopes though and continued on buying up those cards. One game in particular sticks out for me. I got down to 2tg and the two numbers happened to be my birth month and year. I starting thinking about how cool it would be to win that game.

I got the year and was now waiting for the month to be called. I was literally on the edge of my seat and someone managed to beat me to the win. Not even a split pot? How cool would that have been to win? The bingo gods must have taken pity on me because the very next game I played I won. I know I spoiled it by telling you right away but I had to. The game was short and sweet. My numbers were called at the right times and it worked out perfectly.

I spent the rest of the afternoon on cloud 9. My first Elf Bingo experience made for a pretty great story and the win was a bonus!