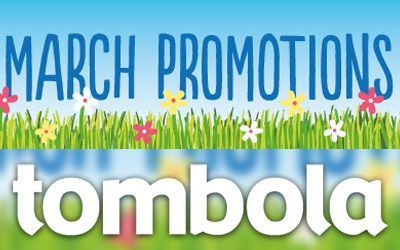 As we are all readying our wardrobes so that they can accommodate warmer weather, as surely we are all a bit sick of winter by now, the first heralds of spring are, maybe a bit surprisingly coming from a bingo website. Not just any bingo site, but one of the UK's favorites –
tombola.co.uk
Their team has prepared a couple of spring promotions that we're sure you wouldn't want to miss out on, and they all have something to do with guaranteed prizes in one form or another.
As an entree course, there's the Bingo Roulette Riches promo that will be happening every Friday during March, except March 30th (Good Friday). Games, which are played between 8 and 10 PM, will yield guaranteed cash prizes, ranging from £250 to an amazing £1500, depending on what room you choose to play in. The prizes are awarded every 30 minutes.
Then there's the On the Hour promo that is taking place on March 19th to the 21st in the bingo90 room. Right when the clock strikes 8, 9 and 10 PM, guaranteed full house prizes of up to £5000 will be paid out!
From the 26th to the 28th of March, Cinco Nights give away £125 in guaranteed prizes, and for something coming up in the nearer future, join the final stages of St Patrick's Day celebrations on Saturday, March 17th. The Pulse Party, as it's called, lasts from 8 to 10 PM and there you can win guaranteed prizes of up to £200.
Motivated enough to register with tombola.co.uk? If so, use our affiliate link on our review page, collect a hefty welcome bonus and – enjoy the coming of spring…
By
Andrej Vidovic