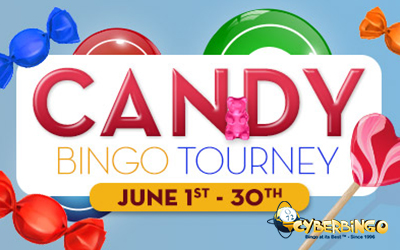 June is already underway, the first month of summer. While some are not too thrilled by the prospect of scorching heat, there are those who see multiple aspects of this month to be enjoyed – it can be frolicking on the beach, enjoying the lovely nights outdoors or just indulging in some sweet treats. Granted, that can be done any time of year, but Cyber Bingo decided to declare June the month of sweets, so who are we to argue?
Anyway – until the very end of the month, June 31st, the site is hosting a Candy Bingo Tourney which is nothing but a string of daily games with some awesome prizes to be had. A salivating prize fund of $3,000 in total is divided into a $1,000 cash prize part awarded to the player which ends up ranked as first and the remaining $2,000 in free play bonuses, awarded to other players comprising the top 20 (2nd place gets $500 in free play bonus, 3rd gets $350, 4th $250, 5th $150 and so on).
The bingo games are played in the Spring Bingo room every day, every hour. During the games, you need to create any of the following patterns to win: jelly bean, gummy bear, chocolate box, hard candy, jolly rancher and candy. The player that collects the most points (points are won by winning the bingo games) will end up ranked first and is the winner. He or she will have their accounts credited automatically on July 1st with $1000.
Read carefully through the site's T&C's for this promotion and bear in mind that, as this is an ongoing promotion with cumulative effect, the sooner you join and begin collecting those points, the better the chances are for you ending up on the winning end of the stick. Good luck!
By
Andrej Vidovic