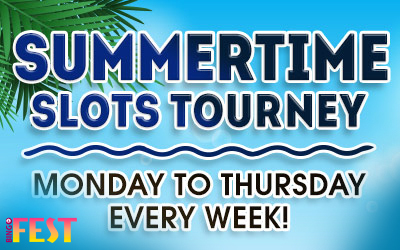 If there's one place that does bingo promotions well, it's Bingo Fest and once again, they're treating us to a huge line-up of big winning possibilities! Sunday July 26th will be the day that the big bingo event takes place, so if you fancy winning a share of €10,400 (or currency equivalent) in cash, you'll may want to read on.
Three warm up games will commence shortly after 1am (CEST) to get you in the mood for the biggie, where €800 can be won in each. At 4am (CEST), the main game is scheduled to take place where a massive €8,000 is guaranteed to be won for just €4 a ticket! If you can't make it on the day, you do have the option to pre-buy your tickets.
Hungry for more? It's just as well there is more then! Throughout July, Bingo Fest will be dishing out (up to 100) bonus spins on some great titles to boost your gameplay. To qualify, meet the minimum deposit requirements and collect your spins each Tuesday (for the Summer Smiley's slot) and Thursday (for the Fruit Splash thriller).
Be a Weekend Winner
Why not add a little excitement to your bingo experience with…
…the reverse coverall specials? Every Sunday between 3am and 4am, €450 is up for grabs for just €0.45 a ticket. Each game will start with a guaranteed prize pay-out of €45, but as the games are played and the numbers are drawn, the pot will grow until it's won or until it reaches that top prize of €450.
Lip-smacking cash prizes are available to be won every week, including €900 to tourney winners. If you're yet to take part in tourneys, they are really rather simple; win the most games throughout the evening to grab the top prize of €270. Basically, you win more for wining more! Plus, at 5am, a free bingo game commences with a guaranteed cash prize of €900!
Staying with the tourney theme, Saturday nights are reserved for fantasy bingo tourneys where just like the previous promotion, you can win additional cash by winning the most bingo games. The top 10 players every week will win a share of the prize fund, with €270 going straight to the person who can call house the greatest number of times.
One last thing before I shoot off, word has it that there's another big bingo event scheduled this month at Bingo Fest and there's big cash up for grabs. Multi-part bingo games will be kicking off on the weekend of July 24th to 26th where a buy 8 get 4 free special will be on the tickets. Reverse coverall games with €1,818 in the pot are sure to get players hot under the collar, just make sure you're in to win.
Newbies can claim a free trial bonus to test the bingo site and its features before deciding whether to make a deposit to claim our exclusive bonus.
By
Kayleigh39