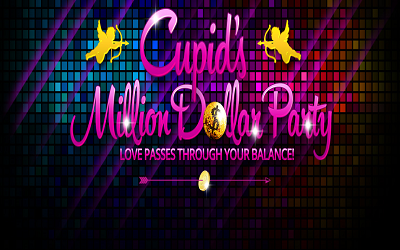 There's a party goin' on right here at Bingo Hall. It's a celebration with prizes to last throughout the year. So, come on bring your good times, and your laughter too because this site is prepared to party with you.

You're invited to join a huge event and the guest of honor is none other than Cupid representing the Free Million Dollar Party. This exclusive event taking place between 8PM and 12AM EST on February 28th is one occasion worth attending!

You may be wondering why a Cupid's FREE Million Dollar Party is happening, right? The answer is quite simple because it's all about appreciation and celebrating all the roomies loyalty and devotion to the community!

Bingo Hall realizes they couldn't do it without you the players, so take FREE CARDS and grab them while you can and have a heck of a time doing it!

There is a 50K guaranteed prize pool in this tournament that is already in full swing but don't worry there is still a huge chance you could be in the running.

To qualify, make a minimum of $50 or more and you will receive 1 point for every $1 wagered on bingo and 1 point for every $10 wagered on slots.

The top 5 players each day will qualify for the Free Million Dollar Party on February 28th. Climb the leader board and you are on your way to the easiest way ever to win serious cash folks.

And we bet you though February was just for Valentine's Day!
By
Ava Jackuard