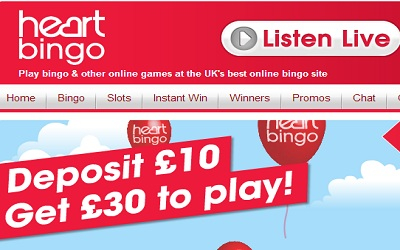 If you were a bingo player, where would expect to find the most love around Valentine's Day? If you answered Heart Bingo then you've just read my mind. To my surprise there were no promotions that were displayed on the site aside from the ongoing ones like the Welcome Bonus, Link Games and BOGOF specials. I was hoping for something in celebration of Valentine's Day but unfortunately I couldn't find anything.

This is still a great site if you're in the UK. I've not encountered any players outside of the UK and it seems that at this time they only accept players from there. Each time you visit the site you get that little message box that appears saying you must a resident to play. I find that interesting as other sites featuring Gamesys software are available to players from around the world. If you're unfamiliar with Heart, Heart radio is popular in the UK and we can now play bingo on a site they own.

I've been playing quite a bit of bingo lately and I've also been losing quite a bit lately. I'm feeling a bit burned out. I kept up hope that it would pass and my day would come but I think a break is in order. If I play another game and lose, I'm going to lose my mind!

If you're new to Heart Games, you can take advantage of the 200% Welcome Bonus. So you can deposit as little as £10 and get £30 to play with. The wagering requirements are really fair. It's not one of those online bingo sites or online casinos that require you to wager your bonus something like 99x. I've seen that more on online casinos than I have at bingo sites but you've still got to be careful when accepting no deposit bingo bonuses because sometimes they are nothing more than trials. Try out the site but if you win you can't do anything about it. Luckily the standard on most of Heart Games' bonuses is just 2x the bonus.

I spent the evening playing Wonderland. I just love the graphics but it's a little expensive to play with 100 paylines. The bonuses are awesome. I enjoy interactive bonus games and Wonderland definitely delivers. I played with £80 and turned on Heart Radio live on the bingo site. It's a really cool experience to be able to tune in live and play bingo or slots. I think I got through 4 full songs before I was broke. The Queen of Hearts wins this time!