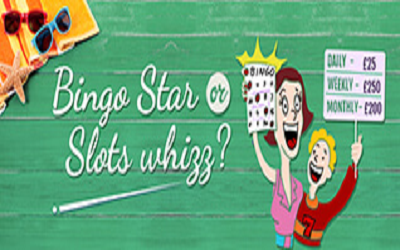 Are you a Bingo fan or a Slot lover, this is the enquiring question on Aunty Acid's mind! She is determined to crown Stars and Whizzes in a fun and exciting contest for the month of July. Daily, weekly and monthly prizes are awarded to top winners. Winning criteria is based on the most number of full houses for bingo the highest amount wagered for slot players.
Prizes are as follows:
Daily – 1 winner - £25 Bonus Bucks - £25 Slot Casino Cash
Weekly - 5 winners - A sum of £250 Bonus Bucks - A sum of £250 Slot Casino Cash
Monthly – 1 winner - £200 Gift Card for Bingo - £200 Gift Card for Slots
To participate there is nothing special players need to do, simply login and play the eligible Slots or enter Bingo room. The promotion period is from July 1st to July 31st.
Daily winners will be announced the very next promotional day. The Weekly winners are to be announced on 8, 15, 22 July and 2 August 2015 and the lucky Monthly winners will be announced on 2nd August, 2015.
In order for the player to claim a win, winners are required to send a testimonial and photograph of themselves to [email protected]. Gifts will be delivered to player's home within 15 – 20 working days.
If you are a newbie boy oh boy are you in for a treat! Aunty Acid has an exclusive offer for you folks. It is the Newbie Bonus Blast! Yep, your about to blast off into a great deal promotion. Make your first deposit and receive a whopping 500% Bonus, second deposit 305% Bonus and third deposit 300% Bonus!
But hold on there is something quite special when registering an account. The Welcome Bonus will treat new players' right with an absolutely Free £15 No Deposit Bonus offer. To receive this generous gift simply verify your debit/credit card on the sign-up form. Once you are registered the Free No Deposit Bonus will automatically be credited to your players account.
There are always great promotional incentives going on including Chat Games, Break Time Quizzer, Refer a Friend, Deposit specials, Cash-back, Raffles, Slot Tournaments and so much more.
By
Ava Jackuard