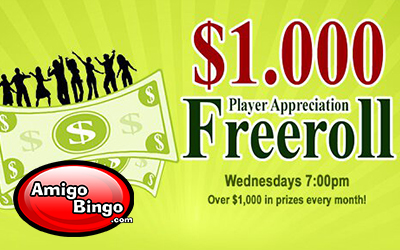 If you're out of ideas for where to head next in pursuit of your bingo pleasure, we at NDB are always happy to help and provide some good recommendations. A good place to spend your time and win some well-earned cash is Amigo Bingo, where a $1,000 Player Appreciation Freeroll promotion is running on a weekly basis. Every Wednesday, you'll have the opportunity to win free money on your favorite bingo games.
Head out to the Player Appreciation Room every Wednesday at 7 PM where 10 free guaranteed games are played for a total prize of $1,000 in free cash and BBs. There are 7 prizes of 25 BBs and 3 $25 cash games in total and the only condition you need to fulfill in order to participate and claim your free entry is to deposit at least once during the last week. You must also not have any approved withdrawals since then. Because the promotion is taking place on Wednesdays, you can deposit until Tuesday at 23:59 and still be eligible for this promotion. A last-minute qualification is 6 PM on Wednesday for players that deposit by then. Please note that only players with a PO ratio of 90% or below can take part in this promotion.
The popular site delivers plenty of other cool offers, too. Beside the 1000% welcome deposit bonus package, there are nightly and morning coveralls – the one played at 9 AM EST gives away $1,000 and the evening one, starting at 11 PM EST, cashes out $750. Coveralls begin at 50 calls with one call added every five and three days, respectively.
By
Andrej Vidovic