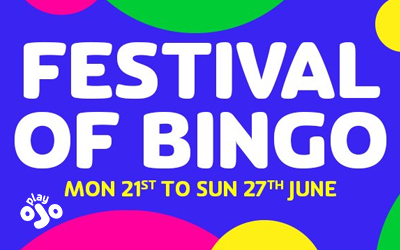 New Celebration Lands at Wager-Free Site!
National Bingo Day is coming, a day you may not have necessarily heard of before, so let me explain. A few months ago, when it was wall-to-wall doom and gloom across the media, big bingo operators got together and organised an event that would give the British bingo lovers a day to look forward to – and to remember. That day is Sunday 27th June and whether you're playing online or at your local bingo club, there will be enhanced prize pools and lots of fun guaranteed.
But why celebrate on just the one day when you can enjoy a whole week of bingo dabbing fun with PlayOJO Bingo? Bingo celebrations don't come much bigger than this! They've gone completely bonkers with free bingo and great value games, which are currently underway. The party of the century guarantees to feature wager-free prizes plus plenty of fun-filled features, all of which will lead to the main event - an hour of back-to-back free games on Sunday 27th June!
Bingo Itinerary
Bingo all sorts in the Mojo Room, daily between midday and 10pm. Featuring free bingo, penny games, 1TG/2TG, Roll-on bingo and more.
5 Line bingo in the Rodeo room daily between 7pm and 10pm. A room hosting 75 ball bingo with 5-line prizes in each game.
Penny bingo in the Disco room daily between 3pm and 7pm. There's over £1K to be won in penny games this week.
National bingo day free bingo in Disco on Sunday 27th June between 2pm and 3pm. Celebrate National Bingo Day with 12 free back-to-back games with real cash prizes.
1p speed bingo in the Turbo room daily between 10am and 2pm. It's fast and furious speed bingo featuring 1p games.
£1k free bingo in the Zero room on Friday 25th June at 8.30pm. This session will feature a bingo game with prizes of £200 for the one-line, £300 for two-lines and £500 for the full house. All free!
Penny bingo hour takes place in the Masked Singer room everyday between midday and 1pm and then again between 5pm and 6pm. There will be 10 x 1p games, with the chance to win a free ticket by matching the mask!
Fiver fever in the Equaliser room every Wednesday. Everyone who takes part has the same chance to win equal prizes. Tickets are just 5p with £5 minimum prizes for one-line, two-lines and the full house.
Power Hour takes place in the Equaliser room everyday between 6pm and 7pm. There are a total of 15 equal chance games an hour, with games starting at 1p a ticket.
Ton up bingo also calls the Equaliser room home, only every Friday between 9.30pm and 10:30pm. Each game features £100 prize pots, with the usual one-line, two-lines and a full house, plus 1TG and 2TG prizes. Games cost just £1 for 20 tickets!
Want in? Sign up to Play OJO Bingo and deposit just £10 to receive 50 free bingo tickets and 10 bonus spins on Starburst. Anything you win from the welcome offer is guaranteed to be cash and also comes with no maximum win stipulations! Whether you win £10 or £10K, you will be credited the full sum. Same rules apply with all the other promos and bonuses.
Kayleigh39