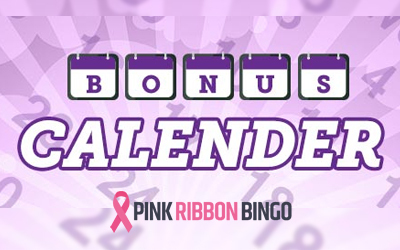 Every day this month, Pink Ribbon has something special for you to unwrap and on certain days, you can claim twice! This virtual bingo advent calendar runs right up until New Year's Eve meaning there's a new reward to discover each day, but you can only join in if you're a member.
If you're tired of the same old advent calendar with daily doors of chocolate treats, why not try something different? Yes okay, I agree, a chocolate advent calendar sounds great, but you'll only find treats waiting behind 24-numbered doors – the site has treats behind 31 doors and twenty-six can be claimed twice!
Here's how it works; you log into your Pink Ribbon Bingo account each day to reveal that day's bonus. To claim, simply make a deposit of just £10 (or more) with the stated bonus code and hey presto – like a magician pulling a rabbit out of his hat, the bingo bonuses will be credited to your account (unless otherwise stated). Each daily bonus can be claimed twice, except for Tuesday's.
Open the Doors
Kicking things off on Sunday December 1st is a bonus for the slots lovers amongst you. There are hundreds of games to choose from at Pink Ribbon Bingo including the big paying jackpot games like the mythical Divine Fortune by NetEnt where golden coins could produce eye-watering and life-changing wins. Each Sunday throughout the month, the promo code 'Weekend' will trigger the following: 360 speedy spins and a games bonus of 10% (up to £100).
Monday's code is 'Monday' and the treat is 15 bonus spins with a no-win cap on winnings plus a bingo bonus of 15% up to £15. Tuesday's, things change ever so slightly; because the treat is so good, it can only be claimed the once. Use promo code 'Tuesday' in the cashier for 20% real money cashback (up to £25).
On Wednesday's, the reward is one for the bingo dabbers amongst you. Use the code 'Wednesday' when making a deposit and receive a 20% bingo bonus up to £20 plus 96 bingo tickets to the royal room – this is where 90-ball bingo games play for big cash. Thursday is simply a repeat of Wednesday, only the code changes to 'Thursday.'
'Friday' inserted into the banking section when making a deposit on Friday's will boost your bankroll with 15 bonus spins, again with no win-cap on winnings plus you'll receive 15% games bonus up to £15. Saturday's are a repeat of Sundays…
…and if you've forgotten, here it is again; 180 speedy spins with 10% games bonus up to £100. With these speedy spins, they're fast, but you want to get as many in as you possibly can, so make sure you have the 'turbo' function enabled when playing the slot games – it can be found on the control panel or within the slot game settings.
Kayleigh39