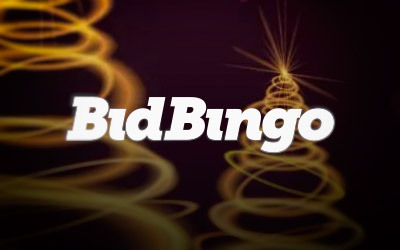 Hold onto your hats, Bid Bingo have resurrected their Christmas Party chat game specials with plenty of chance to pick up bonuses and Amazon vouchers! Join in with the fun in the Royal Room on December 8th for 4-hours to win a minimum of 1,000 loyalty points (exchanged for bonuses) or Amazon gift cards.
Chat games and quizzes are usually general knowledge themed and can spring up without warning, but we have details on exactly what you have to do to win! All you need to do is be waiting to pounce on that keyboard at the following times:
7pm until 8pm – Christmas Sleigh Ride: Tell the chat host your Sleigh Ride number, and it's reverse (Ex:25/52). When both Sleigh numbers are called, the first player to shout SLEIGH RIDE will win a prize.
8pm until 8.30pm – Sing Along with Santa: At random the chat host will post a line from a popular Christmas song only with a word missing. The first 3 players to correctly shout the missing word will win the points. At the end of the game, the top 5 points winners will each win a prize.
30pm until 9pm – Pass The Pressie: If you call for a win on an even number you win a pressie. If you win on an odd number, the mate you choose will win the pressie. You or your mate must shout "HOHOHO" to be awarded the prize.
9pm until 10pm – I Hugged Rudolph: Give the host your Reindeer number. When your Reindeer number plus the number that directly follows it in sequence, are both called, (ex: your number 22 and then 23 is called), shout "I HUGGED RUDOLPH" to win a prize.
10pm - £20 Amazon Voucher: The player who wins the full house in the 10pm bingo game will also win that Amazon Voucher.
10pm until 11pm – Naughty And Nice: Give the Bid Bingo host 2 numbers (one even number and one odd number). When both your numbers have been called the first to shout "NAUGHTY AND NICE" will win a prize.
Daily deposit deals are designed to give more value for money and include free bingo tickets with absolutely no wagering requirements! Simply add the code of the day into the cashier (on desktop or mobile) when making a deposit of at least £10 and the following bonuses will be credited automatically:
Monday: 10% Games Bonus up to £10 plus 20 Bonus Spins with code Monday
Tuesday: £5 Games Bonus and 5 Tickets for the Big £10,000 bingo game with code Tuesday
Wednesday: 40 Bonus Spins, 35 Royal Room Tickets and 15 Daily £50 Treat Tickets with code Wednesday
Thursday: 50% Games Bonus up to £25 with code Thursday
Friday: 600 Speedy Spins with code Friday
Saturdays: 25% Bingo Bonus up to £25 and £25 Games Bonus up to £25 with code Weekend
Sundays: Use code weekend to trigger 99 Bonus Spins
Kayleigh39