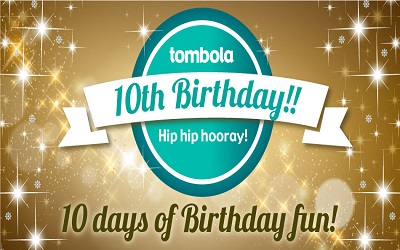 Can you believe it's already been 10 years since tombola bingo first debuted online? As one of the most popular online bingo sites in the UK, the operator is celebrating its 10th birthday by offering 10 days of promotions for its players.

As part of '10 days of Birthday Fun', tombola has put together offers geared toward its bingo players and social media followers. The promotional period began on Monday 4th January 4th with the final day on Sunday 17th January.

Here's what you have to look forward to in the remaining days:

10th January - Share a special tombola memory on their Twitter or Facebook pages for a chance to win one of three retro sweet hampers.

11th January - The Bingo 80 Birthday Brunch gives players a chance to win £250 to in every game from 10am-12pm.

12th January - Bingo 60 Coffee and Cake offers up to £120 in guaranteed prizes from 10.30am-12pm.

13th January – Players can make a special birthday wish for a chance to make it come true up to £ on Facebook starting at 11am.

14th January - Bingo 75 Birthday Shapes offers £150 per game running from 8pm-10pm.
15th January - Birthday SuperSpins is for Roulette fans and offers prizes every half hour 8pm-10pm.

16th January - The 10th Birthday Card promotions will feature more than £100,000 in prizes in various rooms from 8pm-10pm. The Birthday Poem will reward players for posting a birthday poem on Facebook Twitter from 10am for a chance to win a Kindle Fire.

17th January – The Pulse Birthday Party has exciting bingo prizes up for grabs in various rooms from 8pm-10pm. The final promo will require players to guess the number of balloons will be stuffed into the boss' card. If you're correct you'll receive a £500 cash prize. Enter on Facebook from 11am.
By
Glo Wood